One of many, Anglin Law Firm Case Studies for Nursing Home Negligence.  The Plaintiff, an elderly woman in her 70s, had been admitted to a long-term care facility after her surgery. She was in need of assistance when she was being transferred from the bed to a wheelchair. The surgery had caused limited strength and mobility to walk or stand on her own.
In this case study, Upon being admitted to the long term care and rehab facility, she was required to have a Care Plan. The plan stated that she must be lifted from the bed into the wheelchair with a "Transfer Board" for either moving her to a wheelchair or back to the bed. One day, staff had did not use the Transfer board and moved her using a "fireman's carry". Two staff members picked her up by her arms and legs and attempted to move her to the wheelchair. Upon moving her this way and not according to the Care Plan, they inadvertently hit her leg on the bed frame and she sustained a fracture. This represents a clear breach of both the express and implicit duties of care owed to the woman.
As Chris Anglin of Anglin Law Firm duly noted in the above case study, the case was settled outside of court, pre-suit, and the elderly woman was awarded a cash settlement. The nursing home's insurance carrier settled based upon a demand package drafted by a Raleigh, North Carolina nursing home negligence attorney.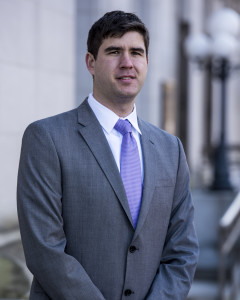 Christopher Anglin        
Managing Partner, Anglin Law Firm – Raleigh, NC
Chris Anglin is the Managing Partner of Anglin Law Firm in Raleigh,NC. He primarily practices in the areas of Personal Injury (car accidents, slip and fall, nursing home negligence and medical malpractice), Real Estate Closings, Wills and Estates and Civil Litigation, since the fall of 2011.
Chris is a graduate of Elon University School of Law in 2011 and an undergraduate degree in Political Science from Wake Forest University.  While a student at Elon University he was a member of the Student Bar Association Social Committee of Delta Theta Phi Fraternity, a member of the Law Society and International Law Society where he took on the responsibilities of Leadership and advising First Year Student members at Elon University.  He also studied abroad and participated in the UNC Summer Abroad Program in partnership with the University of Technology in Sydney, Australia and completed coursework in Environmental and Australian Law.
Chris also makes a point to stay active in several NC Bar Association member activities and other organizations.  As well as, created a Leadership scholarship fund for Campbell University 2nd year Law students. http://law.campbell.edu/news_article.cfm?id=42701&t=reason-receives-anglin-law-leadership-award
He participates in the NC Bar Association Lawyer Referral Service as well as other non profit efforts to help the attorney and business communities.
Social tagging:
Anglin Law Leadership Award
>
Campbell University
>
case study
>
Chris Anglin
>
Elon Universtiy
>
negligence
>
nursing home
>
nursing home negligence
>
personal injury attorney
>
Wake Forest University